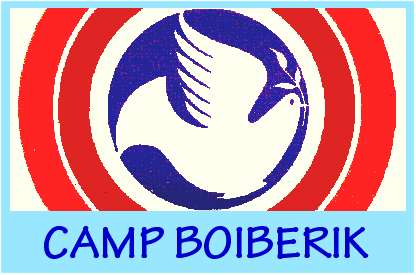 Boiberik Retreat '99:
Keeping the Campfires Burning
A Weekend Retreat for Boiberikaner, their Friends and Families
At the former Camp Boiberik grounds (now Omega Institute)
May 21-23, 1999
What is it that made Boiberik unique? What has kept the flames of memories so vivid some twenty years after the camp closed that over 400 of us former campers were drawn back last April to re-connect, remember and stroll those magnificent campgrounds?
It wasn't just the people or the place, though both of those were special. It wasn't that it was a Jewish camp, there were lots of those. What seems to have emerged, in discussions on-line and in person, as the core of Boiberik was the spirit of the camp, der geist fun Boiberik.' That spirit was defined and nurtured by the camp's founding ideology: to create a place that encouraged and embodied a way of thinking and living as Jews and of Jewish education, and to develop a pattern of camping activities that could bring that purpose to life.
To build the community created by the reunion and to bring the ideals of Boiberik into our current lives, a group of Boiberikaner (list of participants is at the end of this document) have been meeting to develop a weekend retreat that will allow both Boiberikaner and non-Boiberikaner to share in learning about the camp, and to explore the concept of meaningful and creative Jewish living as exemplified at Boiberik through workshops, discussions and ritual celebrations. The retreat will include opportunities for interaction, information-sharing, learning and discussion on many topics, provide programming appropriate for kids and for family and loved ones who did not attend Boiberik, and most importantly, give us all time to shmooze.
With the cooperation of the Omega Institute, the retreat has been scheduled for the weekend of May 21-23. As you may or may not know, that includes the first two days of Shavuos. The retreat will incorporate Shavuos in our weekend activities in ways that are reflective of the "Boiberik approach" to Jewish tradition. Also, arrangements have been made to allow people who cannot travel on Shavuos to arrive at Omega on Thursday, before sundown (see Staying at Omega later in this announcement).
For anyone who missed last year's reunion, it is thrilling to see how beautifully the Omega Institute has maintained and improved the campgrounds. It is worth the trip just to be able to share that wonderful place with your family and with friends from long ago.
CURRENT THINKING ABOUT THE WEEKEND ACTIVITIES
Friday night, May 21
8 pm - 9:30 pm
Do you still have your Shabbes whites?? The retreat will begin at 8 pm with traditional Boiberik Shabbes services (a real highlight of the reunion last April) in the Lake Theatre (formerly the Guest Theatre). In place of the story, there will be something related to Shavuos. It is traditional for Shavuos to decorate with greens, which sounds like a nice way to decorate the Theatre, our headquarters for the weekend.
10 pm - ???
There is a Shavuos tradition of studying Torah late into the night. Our local version of that might be a study session based on texts by Leibush Lehrer that explain the philosophy that guided Boiberik. These are not exactly sacred texts of Divine origin, but living words of an inspired teacher whose philosophy created a wonderful and warmly-remembered Jewish communal environment.
Saturday, May 22
9 am - 9:45 am
Gathering of the whole group: Welcome and announcement of the workshops of the day. Our intention is that most of the workshops, though brief, have an output that can be shared with the large group on Saturday night.
It is traditional to observe yizkor on Shavuos; at Boiberik we had a similar observance as part of our Tisha B'Ov ceremony. We might wish to remember the names of those members of the Boiberik community who passed away since we last gathered at Omega a year earlier -- we will also try to provide an -- opportunity for attendees who would like to gather a minyan for a traditional yizkor observance.
10 am - noon
Morning Workshop Session: Up to half a dozen different workshops, led by Boiberikaner. If possible, workshops participants should be able to take something tangible away from the workshop, something either they can take home with them, or something they can present to the whole group in the Saturday evening program. This could range from a report on the discussion to skits, etc. Special workshops for kids are a must! (e.g. A "Wise Men of Chelm" skit for kids.)
Some ideas from the cultural side: an Israeli folk dance workshop (Cherie Lewin is willing to lead it); painting a "flat" (to be used as a backdrop for the Saturday night program); a "sing" workshop (Josh Waletzky is willing to lead it with Boiberik favorites and some new songs); a workshop for making papercuts (traditional decorations for Shavuos are papercut flowers and other designs -- Tsip Waletzky, well known for her papercut art, has offered -- to help design our workshop, whether or not she can be there herself). Itzik Gottesman has agreed to lead a workshop in Basic Yiddish or in Jewish Folklore. Perhaps a session of trading memories about Boiberik with a view to understanding how the camp changed over the years (Sidney Berg, who was a camper in 1922, is willing to lead this discussion).
Another idea being considered is to organize a sharing session with Boiberikaner who have interesting vocations, to understand how Boiberik and the Boiberik experience influenced and continues to contribute to people's paths in life. For example, Mitch Resnick has offered to coordinate a discussion on "Learning and Education Today: Boiberik Ideals in a Digital World." We are also looking for people who are willing to organize children's programming.
2 pm - 3:30 pm
Afternoon Workshop Session: Some repeat sessions from the morning to allow people to participate in more than one selection, as well as some new sessions. Other ideas: opportunities to enjoy the grounds on a guided nature walk (any naturalists out there??); a "Memory Lane" video workshop: recording memories of Boiberik with people on the sites of the exploits and epiphanies of youth.
4 pm - 5 pm
If possible, we will arrange a viewing of the Golden Book
8 pm - 10 pm
Gala extravaganza amalgam of (1) presentations growing out of workshops (e.g. songs, skits), (2) "highlights" of memorable Boiberik performances of the past, (3) home-grown talent show, (4) a "Q-Night/Free Night" segment (Shrubs, Brad,Gene, are you listening?), (5) a mini-Mazel Tov Day segment with cross-generational teams answering Boiberik trivia, etc.
Sunday, May 23
9 am - 10 am
Opportunity to buy merchandise (T-shirts, mugs??) and to sign each other's T-shirts or other mementos of the weekend
10:30 - noon
Golden Book Workshop: discussion of the values that the Golden Book represented and a chance to create your very own Line or Page for inclusion in a new book created from the weekend. Your contribution can be an appreciation of a person, a memory of something from the weekend or from the Boiberik past....We can have our own Golden Books for this and future years!
after noon: Zay Gezunt!
---
Programming is still in formation and input is welcome on topics of interest for workshops and discussions. In the next few weeks we will be contacting certain Boiberikaner to enlist their help in running workshops or participating in the Saturday night program. But we are certain there are people with good ideas that we haven't thought of or don't know of. Please think of what YOU would like to have on the program and who (if not yourself) could lead such an activity!
Help will be needed especially in the following areas:
We need people willing and able to work with kids
We need people willing to assist with registration at the weekend and to be workshop assistants as needed
We need volunteers to help obtain materials and equipment (hopefully donated) for some of the workshops (e.g. art supplies for painting a "flat", paper for papercuts, camcorder, etc.)
We need people to design and arrange for production of merchandise (t-shirts, mugs, or whatever)
We want to reach as many Boiberikaner as possible, so if you have bunkmates and friends from camp who may not be on the registry, please send us their contact information.
So, mark your calendars, make your travel plans, gather up your loved ones and join us on May 21, 22, & 23 as we share in learning about, celebrating and strengthening our Boiberik community and finding ways to bring that spirit into our daily lives!
---
PLEASE make sure to register for the retreat. If you didn't receive registration materials, please contact Barbara Perlov at perlovmail@aol.com
---
Many thanks to Barbara and everyone else involved in planning the retreat, including: Josh Waletzky, Nettie Spiwack, Marvin Milbauer, Marsha Gildin, Ed Kaufman, Skip Eichler, Naomi Janowitz Livni, Abe Jankowitz, Ron Kushner, Julie Lewin Barudin, Debbie Trol'wo'man Alvo, Vita Gang Wolinksy, Don and Stacey Harris Novick, Marcia Kaplan, Leo Schaff, and several others.
---
Information about accommodations at Omega and in the Rhinebeck area
Who's Coming to the Retreat?
Camp Boiberik Home Page